SAT vs ACT Custom Test
The Majority of Students will Score Higher on either the SAT or ACT
Deciding to take the correct test may help students get into their school of choice.
The SAT vs ACT Custom Test
Discover which test (SAT/ACT) is more aligned with your learning style.
Invest effort in better-aligned tests and get higher scores.
Increase chances of gaining admission into students' top choice college.
Customer Testimonial
The ACT/SAT Diagnostic Test provides invaluable information for students who are deciding which of the two tests to take and which scores to submit as part of the college application process. In contrast to other exams, this test provides a highly detailed analysis of student responses. The analysis was created by testing professionals and is based on solid statistics and quantitative and qualitative measures. Teachers, tutors, parents, and students can have high confidence that the information in the report is an excellent and high-quality testing guide.
---
SAT vs ACT Custom Test, Diagnostic Report, and Test Grading
Custom SAT/ACT Test
As Socrato platform is universal and any test can be configured. If the academy owner has their own ACT vs SAT test and would like to have diagnostic report and bulk processing. Please contact us
here
if you'd like to customize your SAT vs ACT test.
Custom SAT/ACT Diagnostic Report
Provides test recommendations as per test performance analysis.
Provides a side-by-side comparison of SAT and ACT performance.
Pinpoints the topics and concepts that need attention.
Helps create a roadmap for excelling on the actual exam.
The firm name, logo, and contact information can all be customized in the report.
Download a Full Sample SAT/ACT Diagnostic Report
To see the detail about student reports download a full sample SAT vs ACT diagnostic report.
Schools/Academy owners can also generate different types of group/class reports.
If you would like to learn about the Socrato ACTvsSAT predictor test and comparison diagnostic report click here

.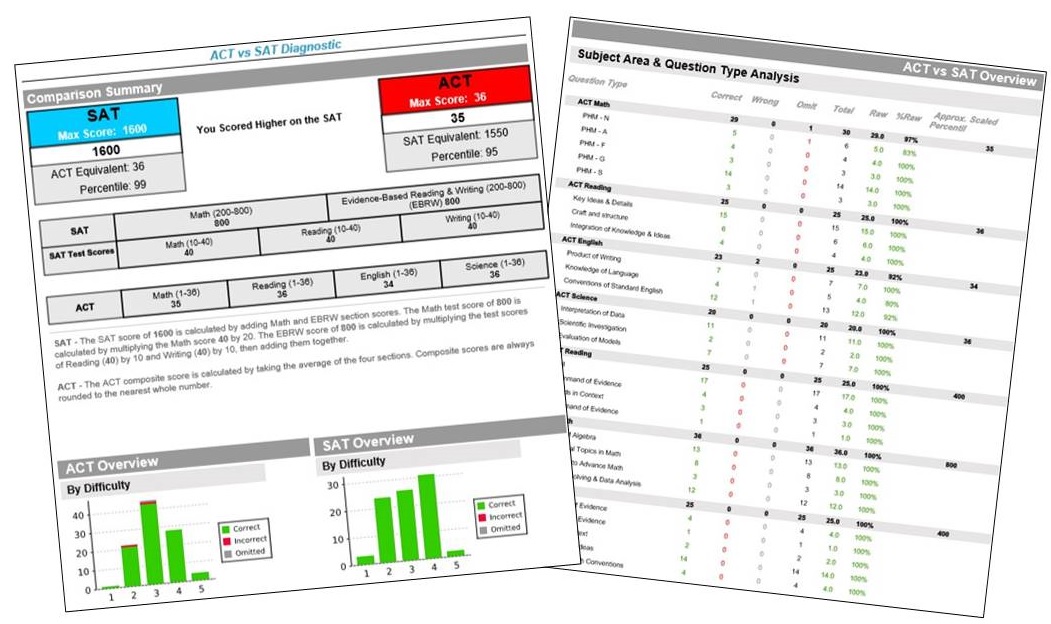 ---
Ready to Buy