Chyten Educational Services, a Socrato customer and and New England's Premier Tutoring and Test Preparation business recently invited Socrato founder, Raju Gupta to their Annual National Convention in Sedona, Arizona and announced they had selected Socrato as the Vendor of the Year. What an incredible honor!
Chyten emphasized that support and excellence of services, and their application and implementation into Chyten's service practices as key factors that contribute to its Vendor of the Year selection process. According to Chyten, Socrato's software and customer support contributed to the growth of their business and brand, and enabled Chyten to provide its Magnostic series of SAT, ACT, and SAT vs. ACT tests as part of their standard offering.
Noted Chyten, "Socrato is one of the best vendors we've ever worked with and they've done an incredible job supporting all of our franchises. Socrato's diagnostics and performance reporting really helped us improve student ACT and SAT test results." The award is a token of thanks, appreciation and respect.
"We're extremely honored and flattered to be the recipient of Chyten's award," said Socrato co-founder Prashant Kaw. "It's extremely gratifying to be able to help our customers achieve their business objectives and we're proud to see our customers derive significant business value from our test publishing, scoring and analytics software."
We'd like to extend a huge thank you to Chyten for such an incredible honor and we hope you continue to grow your businesses and improve the lives of the students you touch!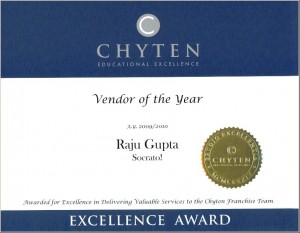 HACKED BY SudoX — HACK A NICE DAY.