SAT vs ACT Exam
---
The Majority of Students will Score Higher on either the SAT or ACT
Deciding to take the correct test may help students get into their school of choice.
The SAT vs ACT Test:
Identifies whether you're stronger on the SAT or ACT
Gives you first-hand experience on both exams
It is the first step in preparing successfully
The SAT vs ACT Diagnostic Report:
Provides a side-by-side comparison of SAT and ACT performance
Pinpoints the topics and concepts that need attention
Helps create a roadmap for excelling on the actual exam.
Customer Testimonial
The ACT/SAT Diagnostic Test provides invaluable information for students who are deciding which of the two tests to take and which scores to submit as part of the college application process. In contrast to other exams, this test provides a highly detailed analysis of student responses. The analysis was created by testing professionals and is based on solid statistics and quantitative and qualitative measures. Teachers, tutors, parents, and students can have high confidence that the information in the report is an excellent and high-quality testing guide.
---
Socrato SAT vs ACT Test and Test Processing
SAT vs ACT Predictor Test
*
Socrato customer has many options for SAT vs ACT test and test processing
.
Students and Tutors can take
Socrato owned SAT vs ACT predictor test
. This test can be taken online as well as available to tutors for the bulk process. Socrato SAT vs ACT predictor tests can be purchased individually  as well as in bulk.
Custom SAT vs ACT Tests
As the Socrato platform is universal and any test can be configured. If the  academy owner has their own SAT vs ACT test and would like to have diagnostic report and bulk processing. This test will be configured as a private test and will have to only the academy owner.   If you are interested in configuring your SAT vs ACT test please contact us
here
.
---
How to Process Tests Using the Socrato Software
When it comes to processing tests, users and organizations of different sizes have different needs. Socrato has created several methods for processing tests. Choose the one that matches your personal and organization's needs best:
---
Diagnostic Report
The SAT vs ACT Diagnostic consists of eight sections - the three sections on the SAT, plus the four sections on the ACT, excluding the essay. Each section is between 15 and 30 minutes long and contains the number of questions and sections needed to simulate the pace required on each exam. There is a total of 186 questions. The student will be tasked with completing 246 exercises in all. Our SAT vs ACT Predictor software enables students and educators to drill down by topic area to identify a student's strengths and weaknesses. With comparison results student, will get an insight into both the test. The Student will also be able to decide which test to take.
Download a Full Sample SAT/ACT Diagnostic Report
To see the detail about student reports download a full sample SAT vs ACT diagnostic report.
Schools/Academy owners can also generate different types of  group/class reports.
If you would like to learn about the Socrato ACTvsSAT predictor test and comparison diagnostic report click here

.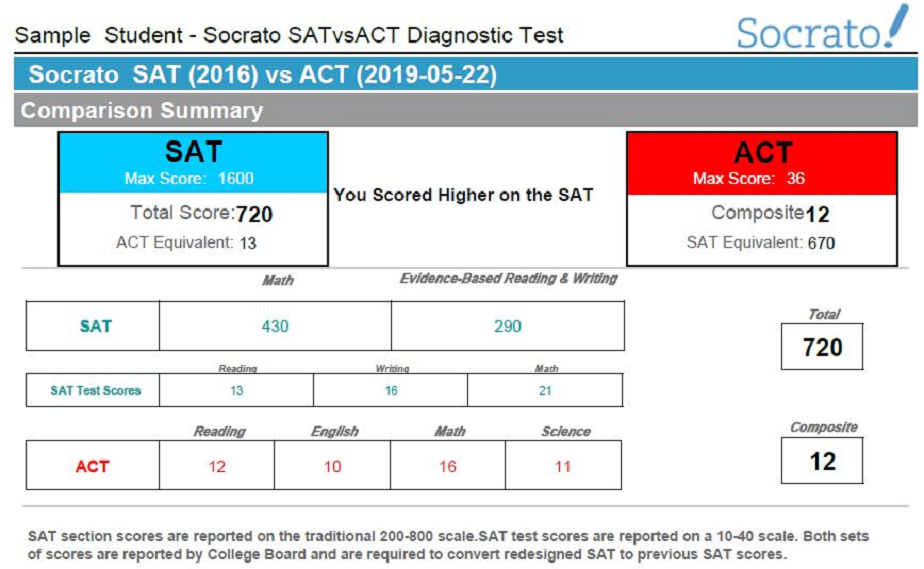 ---
Ready to Try or Buy