Socrato is very excited to have our blog included on Alltop's "Top Education News" web page. The self-proclaimed "online magazine rack" gets rid of information overload by subscribing to the most popular news websites and blogs, collecting the lat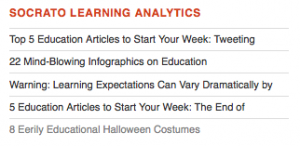 est news in one place. This allows you to find the news you want based on the topic without having to search for it.
Being a part of the Alltop education page is a great honor to us. It shows that our hard work in keeping you up to date on the latest news and trends in education are paying off. Our blog will now be on the Alltop education web page listing our 5 latest blog posts for you to enjoy at any time.
Free e-Book: 5 Tips to Improve Your Reporting for Standardized Test Reporting
Download this eBook from Socrato to learn how to optimize and improve your reports to help students improve their scores on standardize tests such as the SAT, ACT, LSAT or others.
HACKED BY SudoX — HACK A NICE DAY.